Nowadays, when I look at the gas prices I shiver in horror. I thought there was no way it could get any worse than $3 a gallon but now even the cheap stuff is close to $3.25 a gallon. I'm not alarmed by the gas prices because I drive a gas guzzling SUV or drive an excessive number of miles and part of me is glad that the higher gas prices are making people think about alternative forms of transportation and conservation (the operative word in that sentence being "think"). Maybe more people will go out and by hybrid cars, making the actual cost of hybrid cars go down. Maybe more people will take the bus so that they will actually start adding more buses to the route and lowering bus fare. And maybe more people will start riding their bikes and they will see the need to make more bike lanes on the street (you have to be pretty fearless to ride your bike in the street where I live). I'm not going to get into a lengthy debate about whether or not the gas prices are justified or not because, well, it just makes me angry.

But I do want to point out that it's not just the actual price we pay to fill up our tank of gas that will be going up, it will be the price of everything. Think about it. Transport costs go up. Electricity prices go up. The cost to manufacture goods goes up. As the cost to do business goes up, companies will pass this on to the consumers as higher prices. I'm no economist but I foresee inflation. Not just your regular run of the mill inflation, but big mean bad angry inflation (can you tell I am not an economist?).

They say that gas prices are the result of "supply and demand" in the market. So what can we do as consumers to decrease demand for energy therefore bringing the market cost back down and saving the environment in the process?

Well there is the obvious DRIVE LESS and buy more energy efficient vehicles but there are also a lot of other things that we can do that will save us money in the short term as well as reduce consumption. By reducing consumption we not only cut back on the amount of waste that is created when we throw the product away but also reduce the amount of energy and resources that it took to create it in the first place.

One of those things we can do is to stop buying bottled water. Bottled water is one of my biggest pet peeves. Not only are you paying a ridiculous premium for something that you can get right out of your faucet, but the waste it creates is astronomical.

PEOPLE, you have got to get over your fear of the water in the faucet and stop buying bottled water! What a waste. We don't live in Tijuana where it probably isn't safe to drink the water. Do you know anyone who has ever gotten sick from drinking the tap water? I certainly don't. Studies have shown that bottled water is the same if not worse than tap water. And if it's taste you're worried about, I have found that by purchasing a filter and keeping water in the refrigerator I end up with water that is virtually indistinguishable in flavor from any water I have had from a bottle. And if its portability you worry about, just buy a water bottle that you can wash and use over and over again.

I use the Brita Pitcher
and Nalgene Water Bottle, both one time investments that have paid for themselves many times over because I don't need to constantly buy bottled water. If you consider that the price of a bottle of water is approximately $.50, the total cost of these two items is about the same as 80 bottles of water. Assuming that you drink two bottles of water per day, the cost of both of these items will be recovered in less than two months.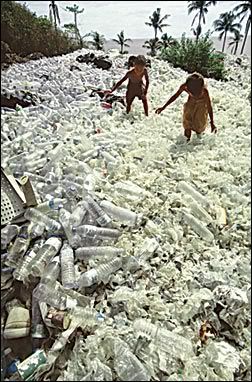 Have you ever thought about how much environmental harm is caused by those little water bottles? The Container Recycling Institute estimates that 1.5 million barrels of oil are consumed every year, just to transport bottled water in the United States. That is enough oil to fuel 100,000 cars for one year! That is not including the energy cost to produce the bottles or to transport the waste that will end up in landfills for more than 1,000 years, the time it takes for a single bottle to biodegrade.

Just by making one small change, you could be saving yourself money, reducing the demand for oil and saving the environment, all at once.

Ok, I'm going to go hug a tree now.