Last night I parked my car under a tree in front of my apartment. When I went down to my car this morning imagine my shock and horror when I found my car looking like this...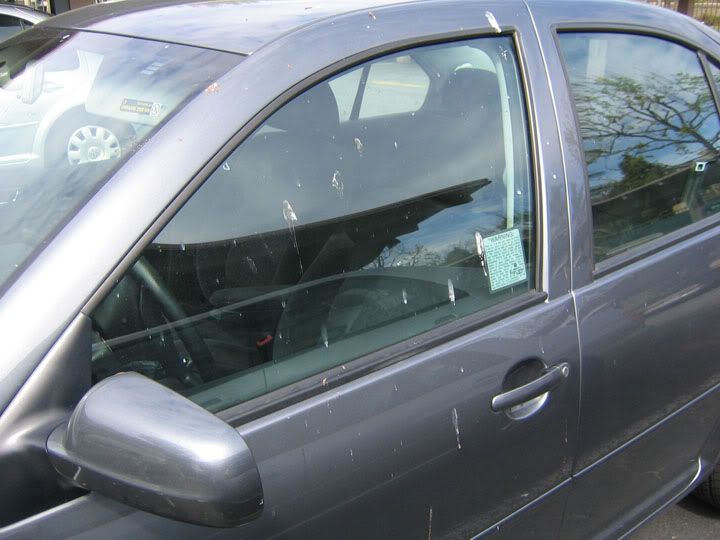 Keep in mind that when I left my car last night it was bird poop free. I looked around at all the other cars and not one of them had one drop of bird poop on them. I had parked in this spot and never had an incident like this before. Clearly, my car had been maliciously attacked by angry birds. They used the weapon they know best, their feces.

"Why?" you ask. I can tell you why those little buggers attacked my car. You see, it all started with trying to make my cat happy. We moved here from a place that was full of birds that my cat could watch from the window. Bird watching was her hobby. In our new apartment she had nothing to watch except a parking lot full of cars and the occasional person walking by. She was depressed and bored so I bought a bird feeder hoping that we could attract some birds to our balcony.

Months passed and no birds came. I tried everything to keep her happy. DVDs of birds, remote control mouse toys, I even contemplated getting another cat to keep her company. Nothing worked. Then one day I noticed that some of the bird food had been eaten and later I noticed that 2 little birds would come and eat out the feeder. My cat was finally happy.

2 birds turned into 4, 4 turned into 6 and soon I could have upwards of 16 birds on my balcony at any one time.

The birdy party crashers were eating me out of house and home. I would put food out when I got home from work and by the time I got home from work the next day the food would be completely gone. I went through a whole bag of birdseed in just one week. I tried to space out the feedings so that I wouldn't have to buy as much bird seed.

I ran out of bird seed and on my trip to the store I forgot to pick up more. I contemplated making a special trip but couldn't justify the effort for the birds. Apparently, the birds didn't like my decision. After 4 days of not having a refill, they decided to show me exactly how they felt about me.

You may be thinking that the bird poop happened because I had attracted these birds to my balcony in the first place. But I argue that I had never had a problem with a soiled car when they were regularly fed! Coincidence? I think not.

So I'm off to get an expensive car wash (I have not had any luck finding a cheap car wash around here) and some bird seed to mollify the angry birdy powers. I have learned my lesson.