I'm proud to report that the sun is shining here in Cali and my garden is thriving! The zucchinis, bell peppers, and eggplant already have little fruit growing on them. Yay! I had to replant them from their containers because they were just getting too big. I was this close to going out and buying some wood to build a box to put them in so that the dogs wouldn't trample them, but that would mean breaking the 100 Day Buy Nothing (New) Challenge! No way was that going to happen! :)

Thankfully, my dad is a notorious pack-rat. He has oodles of crap lying around, which used to annoy me, but really helps me now because if I need something, he usually already has it. For example, I needed a power strip. He had them. I needed some containers for my garden. He had tons of them. Now, that I needed something to build a garden enclosure, of course, he had everything we needed.

The solution was to simply put up four posts and encircle it with chicken wire. The open end very nicely wraps around the corner so that it easily opens and closes like a door. Total cost: $0.00! Here's the end result:




And here are the zucchinis (if you squint real hard you can see them):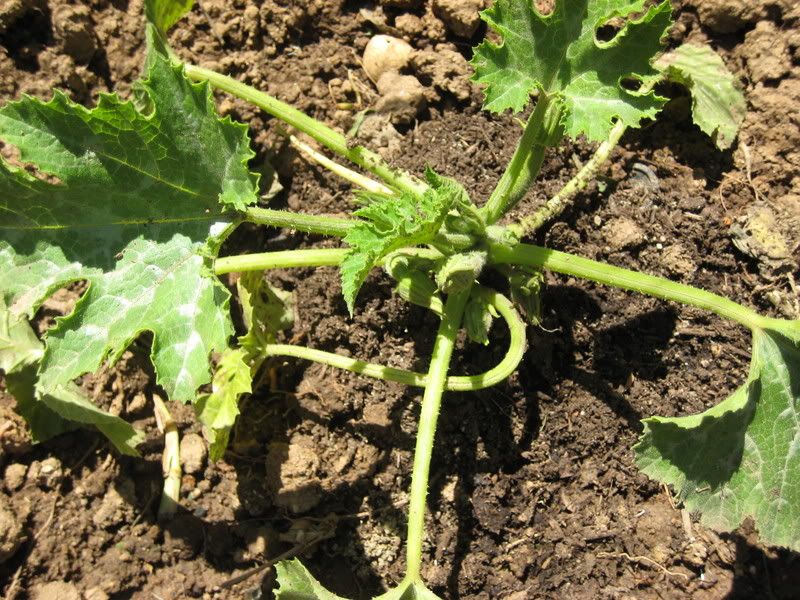 And a baby little eggplant:




Rising food costs won't get me! Growing food is economical and strangely satisfying. I guess I'm just a farmer at heart.

Yesterday, I made it to the Farmer's Market. I ended up scoring a bag of spinach and a bag of lettuce for just $2. Not a bad deal. At the grocery store I probably would've paid three times that much, and by buying at the Farmer's Market, I'm supporting local farmers. Hooray! PLUS, while I was there, the county public health department was there giving away free energy efficient light bulbs. It was a very productive trip.

I hope everyone is having a wonderful weekend. Check back tomorrow; I'll be posting DMT #4!